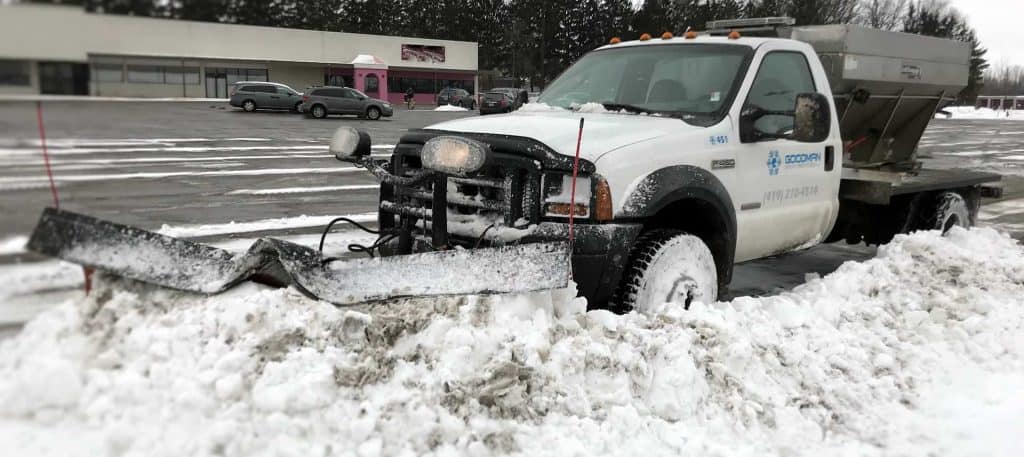 Snow Plowing Services in Columbus and Mansfield might look all the same, but did you know better equipped companies can get your snow cleared faster and better than your average "Chuck with his truck" without necessarily charging you more money?  Having the best equipment and training for the job allows us to finish work faster than some of your average landscape companies, and since we spend less time on the job, we can help more people, which allows us to keep our pricing reasonable.  Wouldn't you rather get your snow plowing services faster and more thoroughly complete if the price is about the same?
We are Goodman Snow Services, and over the last decade we have grown rapidly through providing top quality snow plowing services for our clients at reasonable prices.  We retain customers and get referrals through excellence in our snow plowing services.  To best serve you, we keep our employees well trained and maintain the best snow plowing equipment.  We even ensure our people and equipment are nearby for any winter weather event.
It's more than just snow plowing services.  We offer a complete line of defense against winter's worst storms.  Beyond snow removal, we also have snow hauling, anti-icing (i.e. preventative), and de-icing capabilities (i.e. ice removal after freezing rain or wet snow just before a deep freeze).
We also keep you safe after the storm through maintaining documentation showing snow plowing was performed on a timely basis after the storm.  How does the documentation protect you?  It is estimated 50% of slip-and-fall lawsuits are settled solely based on documentation.  Today's standard is not just that you keep your property safe, you also have to keep adequate documentation proving your property performed necessary snow and ice removal after winter storms.  Without the proper documentation, the courts tend to favor the plaintiff.  Don't you want a company that is going to keep careful snow removal records for you past the statute of limitations?
We can add we are a locally owned and operated snow removal company providing you complete snow and ice management services if you are in Central Ohio. We service a wide range of customers, including commercial, industrial, municipal properties, hospitals and healthcare facilities, and retail stores.
We only ask you give us a call.  We will provide you a custom plan and a personalized quote to ensure you get the service you need and to ensure you don't pay a penny more for services you don't need.  We look forward to hearing from you today about your snow and ice removal needs in the central Ohio region.