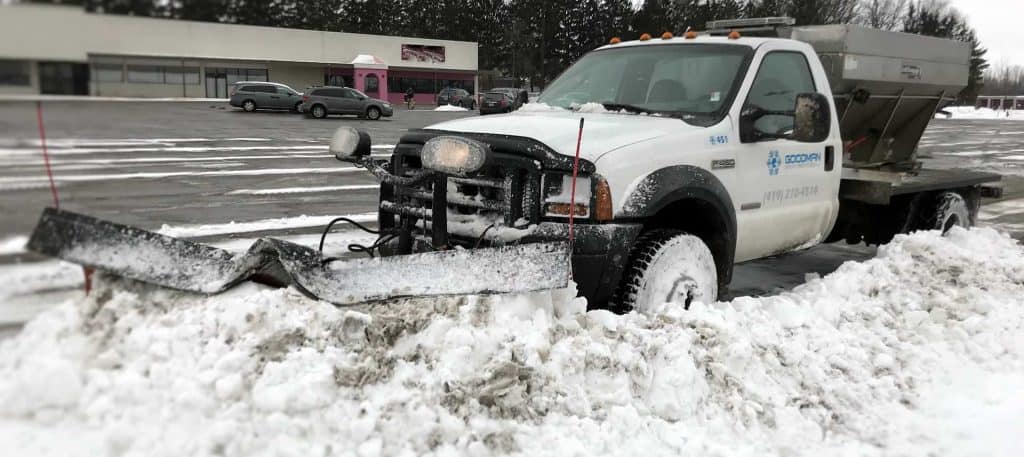 Over the last decade, Goodman Snow Services has grown by providing superior commercial snow removal services for its business and institutional customers.  We have grown rapidly in that time knowing that excellence in customer services will allow us to grow and retain customers.
To best serve our commercial snow removal clients, we maintain a high-tech fleet, well trained employees, and many staging locations for optimal service throughout the area.  We ensure your snow plowing needs are met.
We can help you through protecting your property from hazardous conditions during and after winter events regardless of the size or complexity of your needs.  Beyond snow removal, we also have snow hauling, anti-icing (i.e. preventative), and de-icing capabilities (i.e. ice removal after freezing rain or wet snow just before a deep freeze).
We also keep you safe long after the storm by ensuring thorough documentation to protect you against frivolous slip-and-fall lawsuits.  Today's standard is not just that you keep your property safe, you also have to keep adequate documentation proving your property performed necessary snow and ice removal after winter storms.  Without the proper documentation, the courts tend to favor the plaintiff.
We are a locally owned and operated snow removal company providing comprehensive snow and ice management services across Central Ohio. We service any size commercial, industrial or municipal property including offices, shopping centers, industrial properties, hospitals and healthcare facilities, retail stores, and municipalities.
All we ask is you give us a call.  We will provide you a custom plan and a personalized quote to ensure you get the service you need and to ensure you don't pay a penny more for services you don't need.  We look forward to hearing from you today about your snow and ice removal needs in the central Ohio region.