Snow Hauling and Relocation Services
Goodman Snow Services can help keep your commercial property safe by ensuring snow is completely removed off of your property if the need arises.
Snow Hauling Services
What good is a parking lot filled with huge mounds of snow?  Not only is the lack of parking space inconvenient for your team and customers, it can also make navigating your parking lot more hazardous.  That is why we offer Snow Hauling and Relocation services as well as plowing and salting.
Our first priority is to move snow economically and safely, so we leave as much snow on your property as possible.  Yet, we avoid putting snow on parking islands and around light poles because piling snow in these areas can create unwanted damage and reduce parking lot visibility.  We know you don't want the liability of potential damage or an unsafe parking lot.
When the designated areas on your property are too full for another significant snowstorm, we can quickly remove snow from your property by hauling snow away between snowstorms.  Usually we use a designated dump site for the snow where we know there are no negative effects from piling large amounts of snow.
We are also able to haul snow to other areas of your own property if you have a suitable location.  We can look at space availability, ease of access, and evaluate where the runoff will go during melting times to validate you have a good place for excess snow.
Our snow hauling is consistent with everything else we do.  We ensure you have a safe property throughout the winter at economic rates that you can afford.  We strive to give you the best service, regardless if it is through salting, snow plowing, or snow hauling.
Get a Free Property Evaluation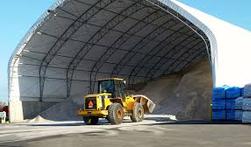 We are a locally owned and operated snow plowing company providing a complete set of snow and ice removal services across Central Ohio. We help any size commercial, industrial, or municipal property including offices, shopping centers, industrial properties, hospitals and healthcare facilities, retail stores, and municipalities.
Get Your Snow Management Plan Started
Fill out the quick form below to get a proposal for servicing your property.