Salting Services: De-icing and Anti-Icing Pre-Treatments
Goodman Snow Services can help keep your commercial property safe by preventing or removing ice from walking and driving surfaces
When freezing rain or dangerous snow hit Ohio, we are ready with salting services for anti-icing pre-treatments and deicing treatments during and after the storm.  We prepare for winter by stocking over 500 tons of rock salt at multiple locations throughout our service area.
Anti-Icing Pre-Treatment Service
One of the key components to keeping people safe during winter storms is the use of effective pre-treatments before a winter weather event hits.  Effective pre-treatments help prevent ice from forming on walking or driving surfaces, meaning people are less likely to slip and fall while on your property.

We often use liquid pre-treatments, which eliminates issues with people tracking salt granules into your building.  We can apply pre-treatments that will stick to your sidewalk even a few days in advance so you are ready when the next winter storm hits.  Pre-treatments are not only important to prevent ice build-up, but they also help keep snow from sticking to your pavement during a snow storm, ensuring a clean surface when we remove the snow.
De-icing Service
When an ice-storm comes through or when we see a wet snow followed by a hard freeze, Goodman is capable of ensuring surfaces stay safe with our capability to quickly spread rock salt anywhere people walk or drive.  We can also use liquid de-icers near your entryway which greatly reduces or even eliminates people tracking in salt onto the floors of your building.
At the end of the day, you just need to know that your property will be safe during the winter.  We will ensure your property is safe, keep thorough documentation to protect you from frivolous slip-and-fall lawsuits, and do so cost-effectively.
It never hurts to request a free quote, so make sure you give us a call today.
Get a Free Property Evaluation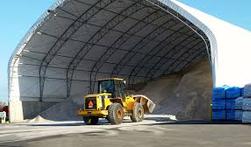 We are a locally owned and operated snow plowing company providing a complete set of snow and ice removal services across Central Ohio. We help any size commercial, industrial, or municipal property including offices, shopping centers, industrial properties, hospitals and healthcare facilities, retail stores, and municipalities.
Get Your Snow Management Plan Started
Fill out the quick form below to get a proposal for servicing your property.